A2 B1 B2 C1 C2
University of Cambridge ESOL Examinations Available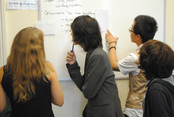 The British English Academy provides classes for students who are interested in obtaining certification for KET, PET, FCE, CAE and CPE Cambridge ESOL examinations. Classes are in small groups of no more than 9 students, and one-to-one tuition is available if you prefer it - prices on request. La academia ofrece clases para los estudiantes que estén interesados en obtener la certificación de KET, PET, FCE, CAE y CPE exámenes de Cambridge ESOL. Las clases son en grupos pequeños de no más de 9 alumnos, y lecciones particulares estan disponible.For more information about the Cambridge University ESOL examinations please visit:
http://www.cambridgeesol.org/spain/
Para obtener más información acerca de la Universidad de Cambridge ESOL, visite http://www.cambridgeesol.org/spain/Groups that focus on English for younger learners (Infant and Junior) are available at different times through the week - please call and ask for more details.Grupos que se centran en Inglés para los estudiantes más jóvenes (Infant y Junior) están disponibles a través de la semana - por favor llame y pregunte para más detalles.Adult groups are available at all levels, as well as Business English tuition. If you feel that you would like a more specialist course individual classes can be arranged.Grupos de adultos están disponibles en todos los niveles y, tambien, Ingles de Negocios - si se siente que un grupo no es para ti - clases individuales se pueden hacer.
---